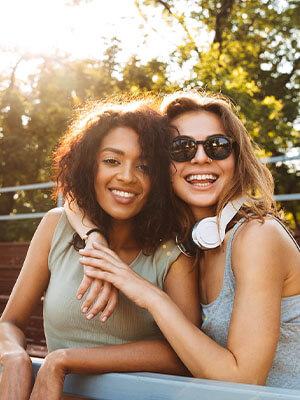 Caring for Your Teeth – Inside and Out!
When you're a patient at Toms Orthodontics & Endodontics, you're part of our family. We want the best for you, whether you're here to change your smile or for a root canal to alleviate pain, and we will always treat you with kindness and compassion.
Dr. Kevin Toms, Dr. Robert Cheron, and our team are dedicated to patient-centered and family-friendly care. Each of us is highly trained and professional; we are also warm, friendly, and approachable.
We all thrive on the connections we build with our community: one person, one tooth, one smile at a time!
A Different Kind of Practice
As a dual-specialty office, we have the pleasure of serving people of all ages. Each person is treated with respect for their individual concerns and desires, provided leading-edge care, and kept informed and engaged throughout the process.
Communication is core to what we do: We actively listen and encourage you to talk about your treatment goals. In turn, we will always be up-front and transparent with our diagnosis and proposed treatment. We are skilled at explaining complex procedures in an understandable manner, so you are knowledgeable about what will happen and why.
State-of-the-art technology and hands-on, detailed treatment: Our practice utilizes the latest technologies for diagnostics and treatment planning, including cone beam 3D imaging (CBCT). A CBCT scan is swift, comfortable, and safe. It allows an orthodontist or endodontist to assess your clinical situation precisely and design the ideal treatment solution.
Additionally, our endodontists utilize a specialized dental-operating microscope during root canals, retreatment, and other endodontic procedures. This advanced magnification and illumination gives the doctor the clearest visuals during your procedure and ensures the best results.
Enjoyable orthodontic and endodontic visits: Our welcoming and supportive atmosphere helps even the most apprehensive patient relax. From the inviting reception area to comfortable treatment chairs in the operatories and treatment bays, we want you to feel at ease during appointments. If there is ever anything you need, do not hesitate to ask: We want you to feel at home in our care and to leave the office with a smile!
Schedule an Appointment
Located in Bristow, VA, our orthodontic and endodontic practice welcomes residents from Gainesville, Manassas, and Nokesville. Please contact us for more information and to schedule an appointment; complimentary consultations are offered for orthodontic patients.
The Toms Orthodontics & Endodontics doctors and team look forward to helping you achieve the pain-free, healthy, and beautifully confident smile you deserve. Call today!